Luxury Weekend Breaks
If you're looking for somewhere special to stay and somewhere to give you that extra pampering you deserve then one of our Luxury Villas will be just right for you.

Our Luxury Villas will just make your breakaway perfect, they will make it a luxury breakaway too.

Our choice of places to stay can be in the Country of near some great places to visit all giving you the right choice for your breakaway.

Not sure where you want to go? Then let our Unique Destination Guide help you, or use our interactive mapping guide you to your perfect retreat and are all are no more than just a click away.
The hardest thing is just deciding where to go and where to stay on your prefect and luxurious breakaway!

If you are interested in seeing your Villa advertised with Go Breakaway, then register here and let us promote your business in the way it deserves.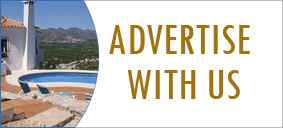 Go Breakaway, the fastest growing leisure provider helps you find places to visit and the best places to stay including villas, bed and breakfast, apartments and fincas.